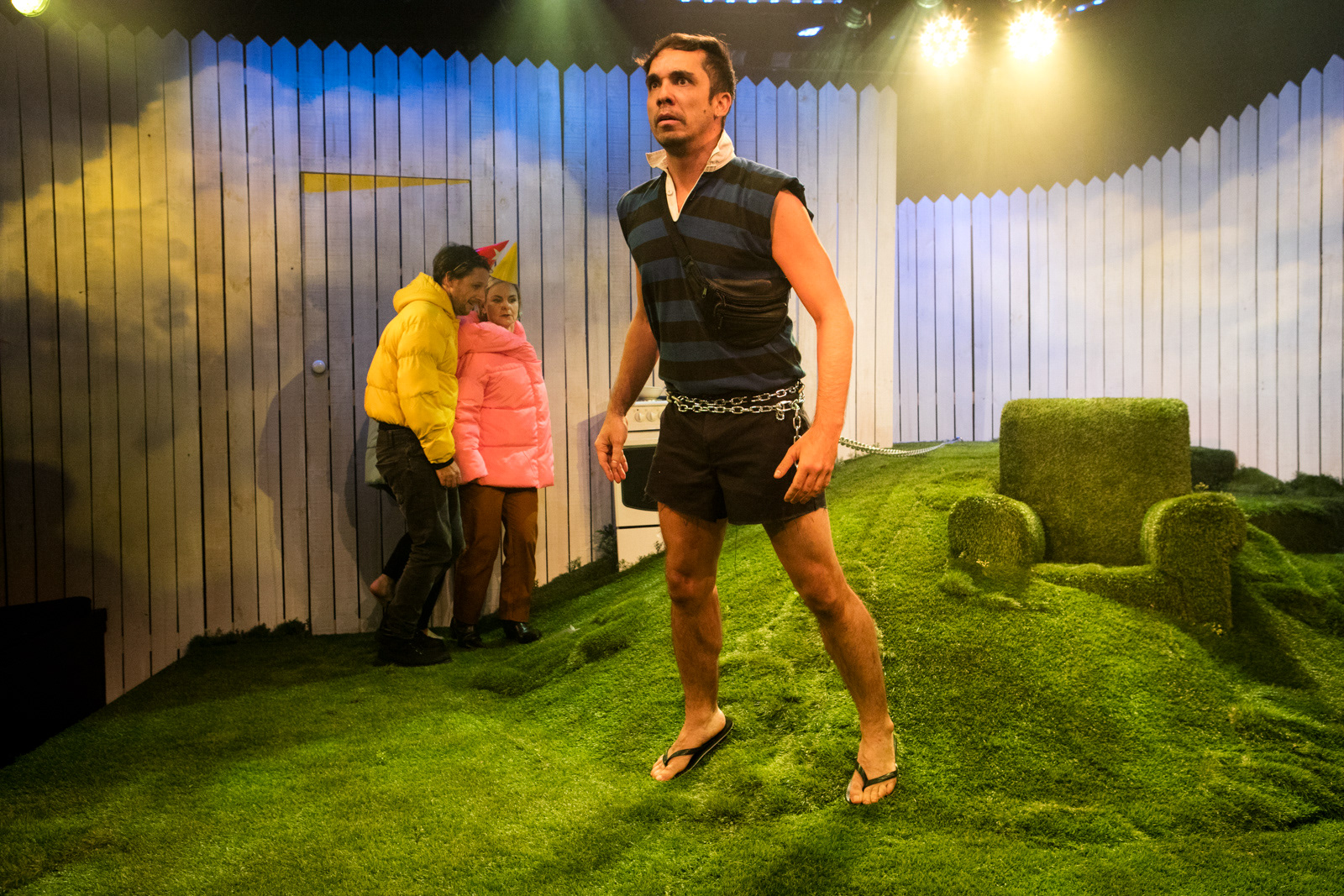 Director Lee Lewis
Lighting Designer Trent Suidgeest
Composer & Sound Designer David Bergman 
Designer Ella Butler
Stage Manager Khym Scott

With Amy Hack, Rebecca Massey, Bardiya McKinnon, Sarah Meacham, Guy Simon and Matthew Whittet
Opened on the 6th November, 2019 at the SBW Stables Theatre, Sydney.
Nominated for seven 2019 Sydney Theatre Awards!
- Best Sound Design of a Mainstage Production (David Bergman)
-

Best Mainstage Production
- Best Direction of a Mainstage Production (Lee Lewis)
- Best Stage Design of a Mainstage Production (Ella Butler)
- Best New Australian Work (Rita Kalnejais)
- Best Female Actor in a Supporting Role in a Mainstage Production (Amy Hack)
This is a play about hunger and desire. It's Romeo and Juliet pushed to deranged extremes, where the unlikely sweethearts are a 14-year old boy and a young fox with brutal birthrights.
Rdeca's whole family have fleas. Her mum is pushing her into making her first kill, a snivelling mole, before she's ready.
Basti is being bullied at school by kids who call him a shrimp. His dad is too busy flirting with the neighbour to be of any real help.
Beneath the light of a full moon, Basti captures Rdeca, and so begins a starcross'd romance between hunter and prey.
Rita Kalnejais (BC, Babyteeth) makes a blood-splattered return from London with a play that's blisteringly funny, provocative and just plain freaky.
Press
"David Bergman contributes one of the most effective, evocative and enjoyable scores of the year, the music cohering seamlessly with the tone of the show each step of the way."
Tim Garratt, Theatre People
"David Bergman's cinematic score pulses with a thrumming vitality that keeps the story as aurally enthralling, as its visuals." Debbie Zhou, Time Out
"Compositions from David Bergman, of particular note, are perfectly idiosyncratic. As are his other sound designs."
Jason Whittaker, Daily Review
"David Bergman's galloping score makes a big impact but in the end, it's the depth of emotion and flashes of wildness displayed by the animal and human characters on stage that propel the show."
Jason Blake, Audrey Journal
"Composer and sound designer David Bergman wraps the show in a soundscape that's fragrant with woodland smells, bird song and lush romance – which adds to the often disconcerting experience of pleasure and pain. Recommended without reservation."
Diana Simmonds, StageNoise
"
Lights by Trent Suidgeest, along with music by David Bergman, are memorable for their flamboyant flourishes, appropriately and enjoyably exaggerated in intensified moments of romance as well as comedy."
Suzy Wrong, Suzy Goes See
"
David Bergman's dramatic sound compositions add richness to the play."
"
...the audio and lighting impel the atmosphere.  The sweep of violin and swell of percussion will presage a hunt."
Reviews By Judith